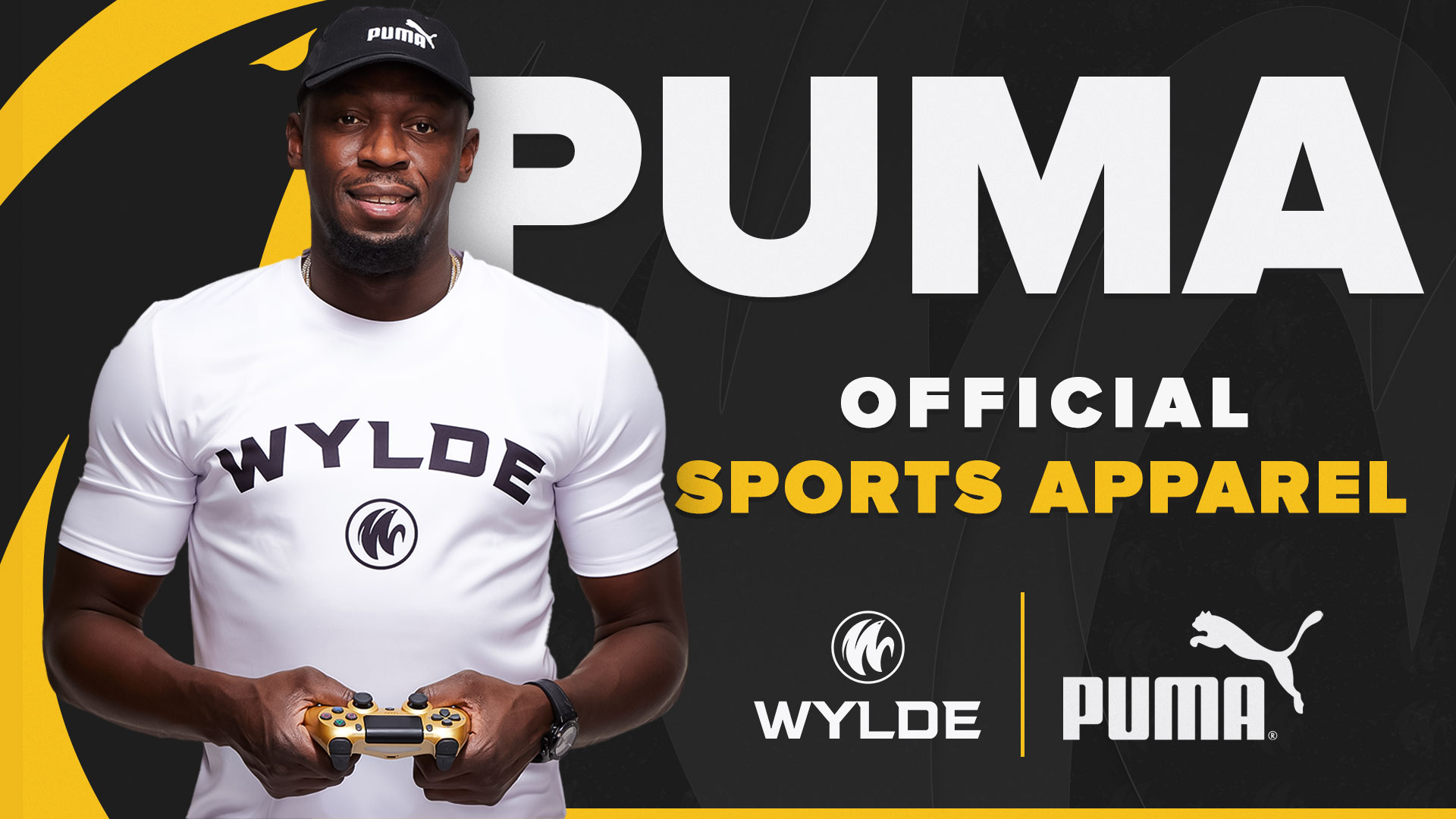 PUMA ANNOUNCES SPONSORSHIP DEAL WITH WYLDE ESPORTS 
Herzogenaurach, Germany, date 2023 — Sports company PUMA has signed a multi-year sponsorship deal with European esports company, WYLDE, to continue to support esports as the fast-growing spectator sport in the world. WYLDE, co-owned by Usain Bolt, is one of the fast-growing esports teams in Europe with active rosters competing at top tier level in Rainbow 6 Siege, Valorant, FIFA and Rocket League among others. The new deal will see PUMA become the official kit partner for WYLDE, with all WYLDE esports athletes wearing and competing in exclusive PUMA player kits.
Esports and gaming is a an important part for PUMA, whose esport collection features apparel, footwear and accessories specifically designed for maximum support, comfort and performance. The company has signed sponsorship deals with leading esports around the world including NAVI, Revenant, Entropiq, Gen.G, FUT Esports and more. 
Speaking at the announcement, the world's fastest man, PUMA ambassador and WYLDE co-owner, Usain Bolt said, "My relationship with PUMA has been very strong throughout my career. It is very special for me to see my WYLDE esports team aligned with PUMA as we build a global esports organisation. Our WYLDE professional players around the world will be wearing PUMA kit proudly as I have myself for so many years."
The new sponsorship deal follows success for WYLDE in recent months, including winning Rainbow Six GSA League 2022, the EU Gamers Without Borders Championship Title and placing 3rd at Gamers8 2022. The company also announced a multi year partnership with Virgin Media in 2022, and the opening of the WYLDE's first Academy in Ireland. 
Media contact:
PUMA
Gudrun Cämmerer
Teamhead Global PR
WYLDE
Renate Murphy
CAMEO Communications
PUMA is one of the world's leading sports brands, designing, developing, selling and marketing footwear, apparel and accessories. For more than 70 years, PUMA has relentlessly pushed sport and culture forward by creating fast products for the world's fastest athletes. PUMA offers performance and sport-inspired lifestyle products in categories such as Football, Running and Training, Basketball, Golf, and Motorsports. It collaborates with renowned designers and brands to bring sport influences into street culture and fashion. The PUMA Group owns the brands PUMA, Cobra Golf and stichd. The company distributes its products in more than 120 countries, employs about 16,000 people worldwide, and is headquartered in Herzogenaurach/Germany.
Created at the convergence of gaming, entertainment and competitive performance, WYLDE is a premier esports organisation with global ambition.  Co-owned by the world's fastest man, Usain Bolt, and co-founders Steve Daly and David Cronin, WYLDE is headquartered in Ireland. Founded during a global pandemic, WYLDE is committed to celebrating and bringing together young people from diverse backgrounds, experiences, and perspectives through gaming media and esports titles. WYLDE connects this generation through unique gaming content, fun, competitive spirit and performance culture.  See www.wylde.gg for more information.